Bowls, beetles, and bare chests
The anatomy of a Commonwealth Games silver medal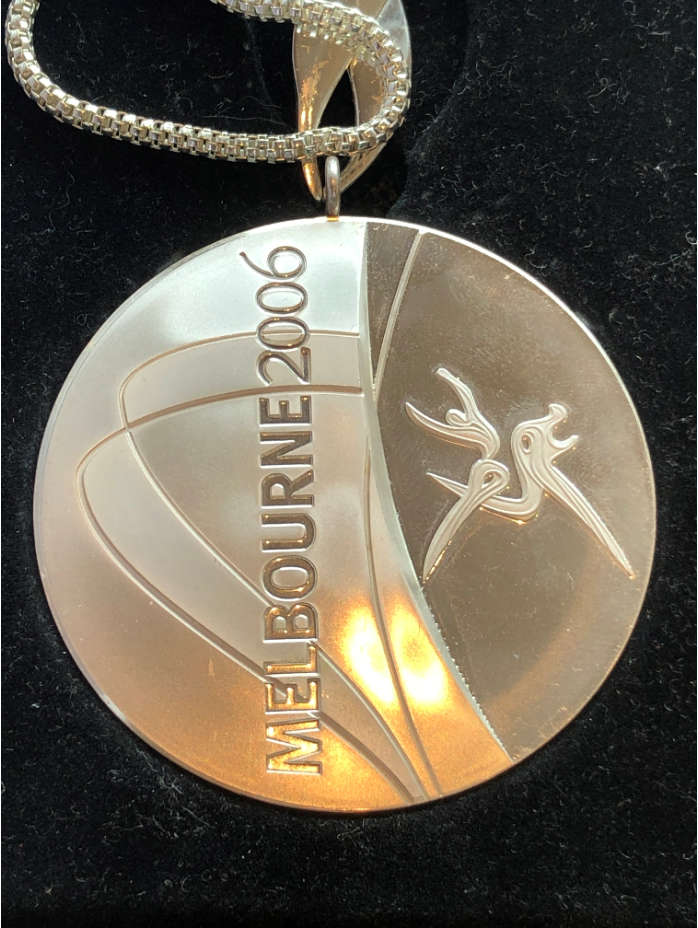 What do Dame Jessica Ennis-Hill, Victoria Pendleton, and my dad have in common? All three won silver medals at the 2006 Commonwealth Games in Melbourne.
The latter of this trio, professionally known as Mark Bantock, may never get a guest appearance on A Question of Sport like the names aforementioned, but he can claim to be one of a select few athletes to have had their rooms inspected by Cherie Blair.
Currently resting in a cushioned case in the attic of a Buckinghamshire house, this is the story of a Commonwealth Games men's pairs lawn bowls silver medal.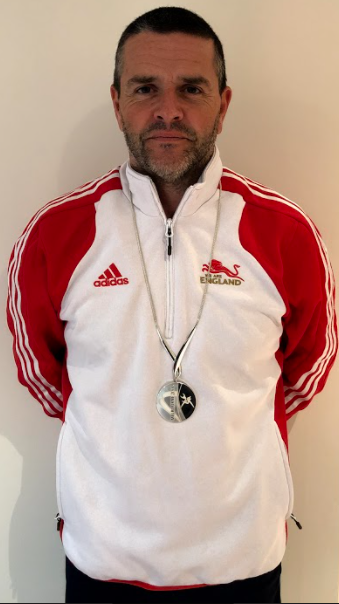 The England Lawn Bowls men's and women's teams for the Games were each comprised of six athletes; covering the singles, pairs, and triples events. Chosen from a 24-man selection process, Mark was partnered with Devon's Ian Bond to represent England in the pairs.
With Australia, New Zealand, and Scotland entering the tournament as favourites, Bantock and Bond faced the added challenge of competing on faster, sparser Australian greens at the State Lawn Bowls Centre, conditions far more familiar to the hosts.
Having only played together briefly at England under-25 level, the duo had just a two-week pre-games trip to Australia to acclimatise to such conditions and each other before they found themselves in the centre of the Melbourne Cricket Ground for the opening ceremony.
"That was just a life event you cannot pay for. You could be in the crowd but to actually be in that little bit in the middle walking round feels quite surreal, because you're not really an athlete, you're just out there throwing a ball up and down a piece of grass." - Mark Bantock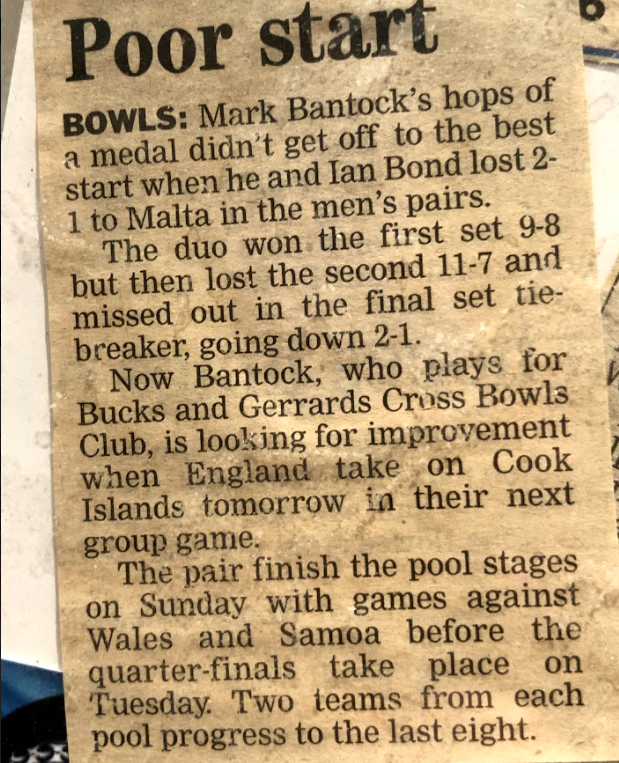 The surreal quickly made way for harsh reality. A seemingly kind opening bout with Malta turned out to be a red herring when it was discovered that their opposition were two Australian expatriates playing under the Maltese flag.
A tie-break victory over Bantock and Bond preceded a run halted only by eventual winners Scotland in the semi-final, and the English pair were left knowing they would need to tally wins against the Cook Islands, Samoa and Wales to avoid a group stage exit.
"In subsequent years when you'd had good or bad events, our manager John Bell would say: remember that night after Malta?
"I vividly remember lying on the bed thinking: I just want to go home. If we had any sort of slack, we'd used it. You knew then you effectively had to win every game from there and if you lost one you'd be going home." - Mark Bantock
Home would have to wait.
Three wins on the spin saw England progress as joint winners of the group alongside Malta, securing a quarter-final matchup with Canada and a "phenomenal" bandana wearing Michel Larue that Mark cites as provider of one of the best individual bowls performances he has seen to this day.
Despite Larue's heroics, the English pair edged through on a tie-break. Their reward was just a few hours rest before a semi-final match-up with the hosts in front of a packed-out partisan crowd. Having been disappointed with his performances in the group games, progression past Canada proved to be a pivotal moment for Mark.
"To win a medal was all I wanted to do. Once we beat Canada, it was almost like everything after that was a bonus: you then weren't at the point of no return. You knew you had two chances, with Malta in the bronze medal game.
"Australia was probably my best game of the whole tournament. It is one of, if not the, favourite memory of my bowls career even if it didn't mean we actually won anything. We went in second favourites against an Australian team playing at home in front of a huge partisan crowd." - Mark Bantock
At one point during a particular spell of English dominance in the first set, Andy Thomson, a team-mate supporting from the crowd following his exit from the triples event, shouted: "Mark, let him out of your pocket!"
Unfortunately for the hosts, Mark's pockets stayed full and England pushed past in straights sets to tee up a gold medal match with Scotland the following evening.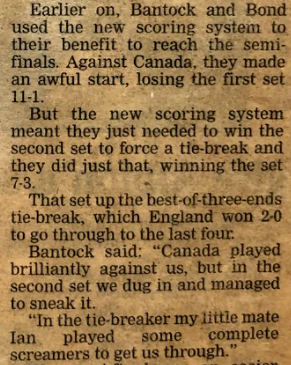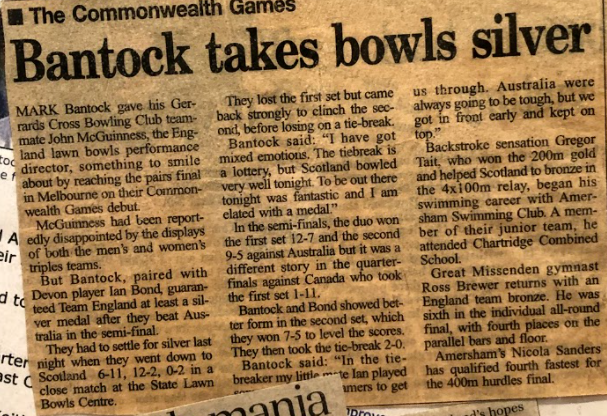 In Paul Foster and Alex Marshall, the Scots boasted one of the most formidable pairings seen in the sport since Tony Allcock and David Bryant, who won five pairs titles together at the World Indoor Championships either side of 1990.
Equally formidable were the swarm of African black beetles that, attracted by the floodlights, descended upon the green during the first set. The invaders were so large and bulky that they would have impacted the running surface of the bowls, so play was paused until they departed.
A tie-break became heart-break as Scotland triumphed at the death, yet despite the immediate disappointment, Bantock and Bond returned home as the best performers of any English lawn bowls athlete. A bronze in the women's triples was the other medal taken home by the squad.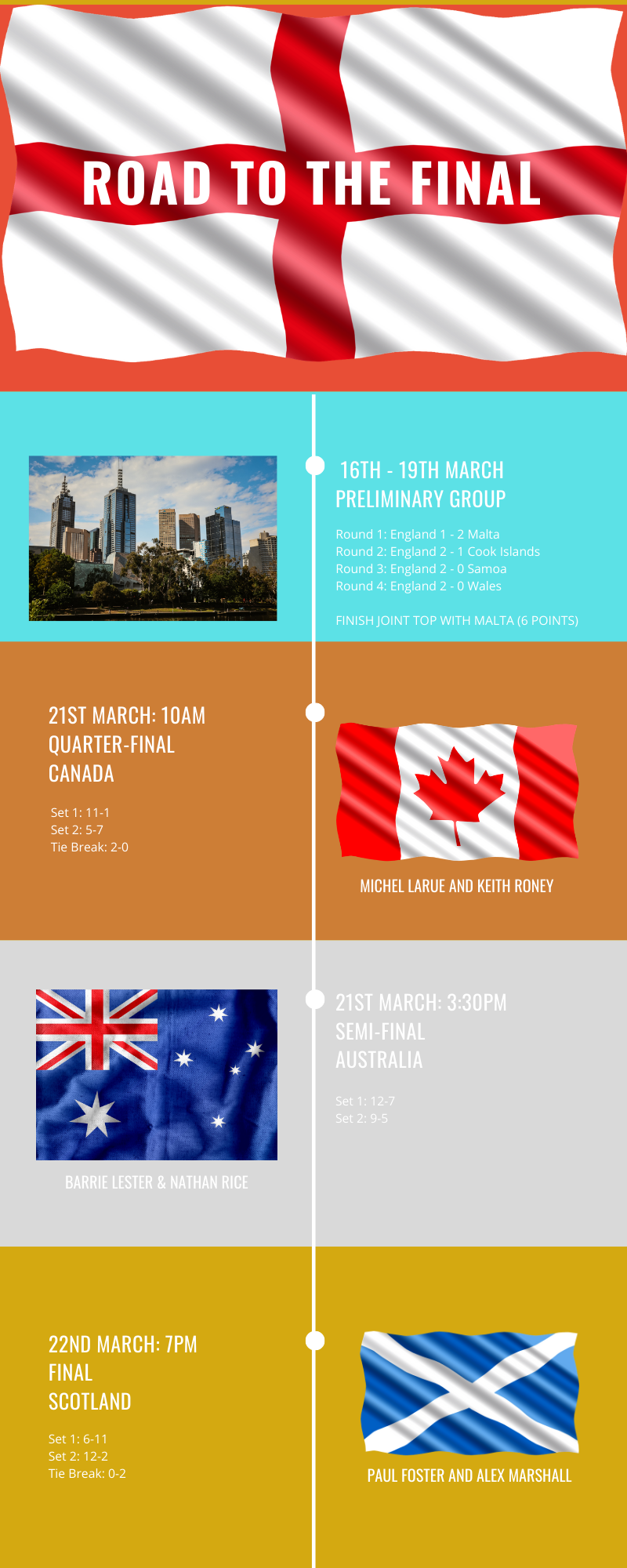 48 hours later, Mark Bantock was on the BBC's nine o'clock news, but there was no mention of the final.
With just days to go before everyone returned home, a note was slipped under the door of the English athletes that Tony Blair would be arriving for a tour of the athlete's village. All the teams had gone into a ballot to decide where the Prime Minister would be visiting, and the shooting team had their ticket drawn.
Unfortunately for them, the shooting team occupied the apartment directly below Mark's room. With his participation over, the silver medalist had ventured to a nearby casino with members of the bowls team the previous night for the most important sporting event of his time in Australia, an FA Cup quarter-final between his beloved Chelsea and Blair's Newcastle.
A John Terry header ensured Chelsea's passage, as well as a rude welcoming for the Prime Minister.
According to a report in the Daily Express, Cherie Blair, wife to the Prime Minister, shouted up: "Right, we are going to get our revenge. We are coming up to inspect that bedroom."
"I had a pair of shorts on, that was it. You can imagine the state of the room: two weeks, blokes only. If you wanted to do any washing you had to take it to the laundry facility in the village so that wasn't used particularly much.
"Three security guards, with guns, came up first, doing a quick sweep. We're pinned to the wall. Then Cherie came in, with cameramen and everything. She came up, made a few comments, laughed and that was it.
"I didn't think much more of it, then Mum sent me a message saying she'd just seen me on the nine o'clock news. There I was, standing there like an idiot in my shorts while she's [Cherie] giving us the interrogation." - Mark Bantock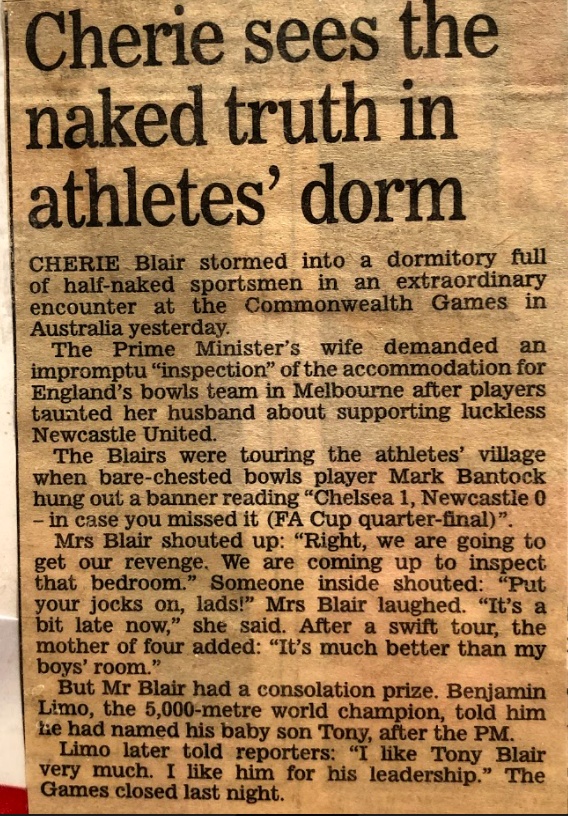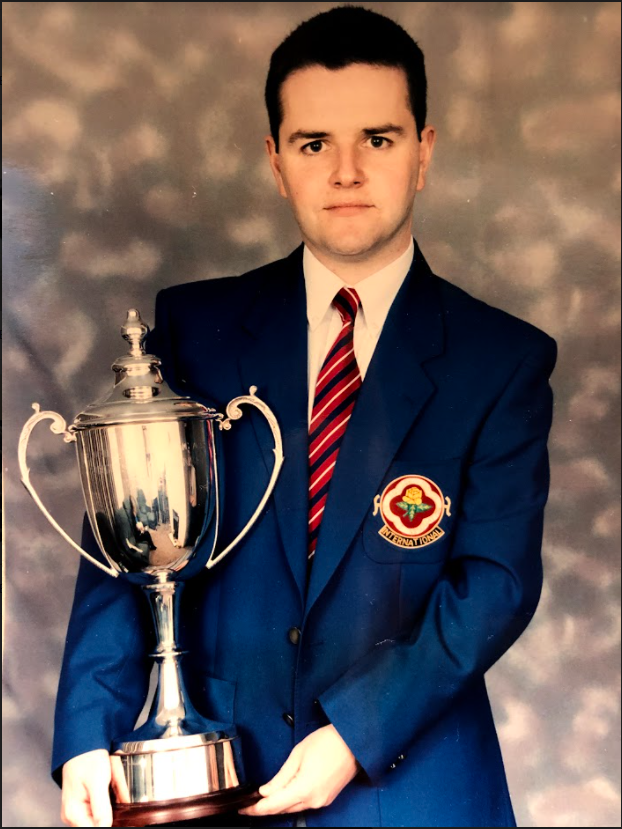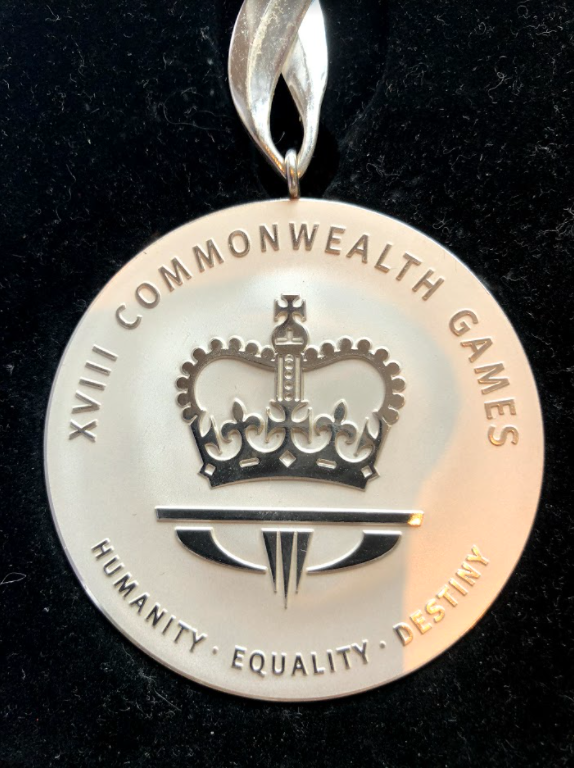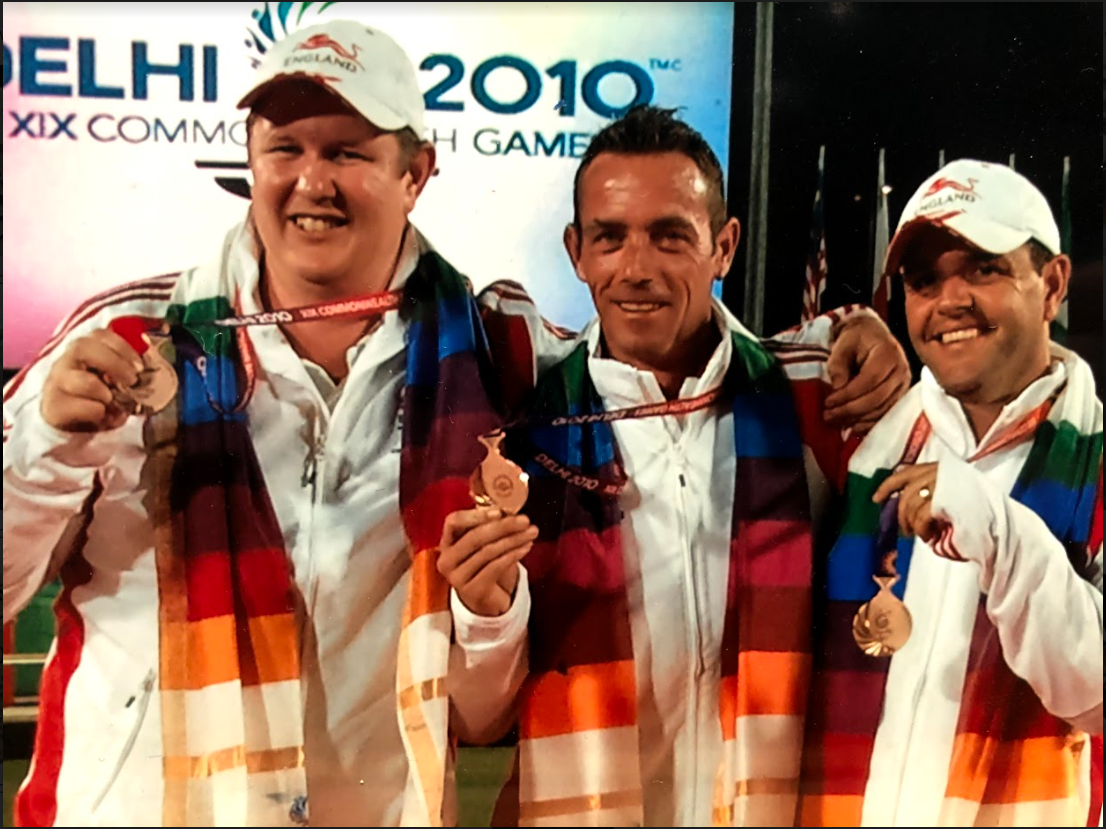 Mark took home another medal in 2010, a bronze in the triples at Delhi, before retiring two years later. He still maintains with total conviction that he was "averagely talented", though his admission into the Bowls England's 'All-Star' rink via a public vote disputes this assessment.
"I've always said I undoubtedly made the best of any ability I had, there would be people with much more ability than I ever had to play and win things.
"I was never truly in love with the sport, but that is why I played it – for the competition. There's nothing worse than getting beat but that is why you play, for that moment of exhilaration when you can think: it was you or me, and I won, you lost.
"If now somebody said come on we're going to have an afternoon playing a friendly game of bowls, a sport I'd been relatively ok at, or someone said let's have an afternoon of golf, that I'm absolutely useless at, I would pick to play golf because I would enjoy it more.
It was just the sport that I had a modicum of ability at so that was what you focused on to get to that level to play in that competition [the Games]." - Mark Bantock
True to his word, he is at a golf lesson as I type this. If he becomes as average at golf as he believes he was at lawn bowls, then Rory McIlroy should start looking over his shoulder.